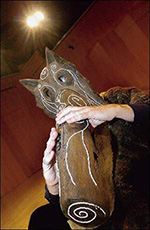 Norman Lowrey is a maskmaker / composer / performance / video artist and Professor Emeritus of Music at Drew University, Madison, NJ. He holds a Ph.D. in composition from the Eastman School of Music.
His earlier compositions for orchestra, several in the rental library of Carl Fischer, Inc., have been performed throughout the U.S. and heard in radio broadcasts in Canada and Europe . These works include a setting of Dylan Thomas' "A Child's Christmas in Wales " for narrator and Orchestra, and "Breaking Open," a setting of poetry by Murial Rukeyser for Women's Chorus and Orchestra.
He is the originator of Singing Masks. The masks, ceramic, carved wood, leather and virtual, incorporate flutes, reeds, ratchets, electronics and other sounding devices. Each mask has a unique voice. They have been exhibited in East Coast museums and galleries, including the New Jersey State Museum.
His primary creative work over the last two decades stems from a project that he initiated in collaboration with the Delaware Riverkeeper (Cynthia Poten) called River Sounding: gatherings of people along the 350 mile length of the Delaware River to listen to the river in silence and create work in response to that listening.
He was a long-time student/colleague of the late composer-philosopher-accordionist Pauline Oliveros, is certified in her Deep Listening practice, was on the Board of Directors of the former Deep Listening Institute, and continues her approach as instructor of Deep Listening for the certification program at the Center for Deep Listening of Rensselaer Polytechnic Institute.
Lowrey has presented Singing Mask ceremony/performances in such diverse locations as Plan B and SITE Santa Fe in Santa Fe, New Mexico, Roulette and Lincoln Center in New York City, The Deep Listening Space in Kingston, New York, The New Jersey State Museum in Trenton, and at the site of pictograph caves outside Billings, Montana. His most recent work has included performances in the CRAIVE lab at Rensellaer Polytechnic Institute, and a commissioned video installation in the Smithsonian's Arther M. Sackler Gallery of Asian Art for an exhibit of 2500-year-old Chinese Bells.
---
WRITINGS ABOUT
Who Is That Masked Man? by Jenna M. McKnight

The Stuff of Dreams by Bonnie Langston

Maskman's Follies by William Osborne

Global/Focal Listening by William Osborne

Seeking Harmony At River's Edge by Mary Luthi

Review of riverdream through us and Spirit Dreams by Tom Bickley

Earth Day at Barnegat by Paul Somers



---
"The Singing Masks of Norman Lowrey brought the mysterious mythical world of dreams to Deep Listening Space during Ione's Dream Festival (October, 1997). The audience was transported immediately to a different dimension by the sound world created by the interaction of sounding mask and audio space eminating as natural surroundings. The reaction was peaceful yet electric." -Pauline Oliveros
"The hour-long mix of taped and live sound was not hypnotic but within its own sonic world was activating and energizing." -Paul Somers
"
Much of the power and impact of Lowrey's work comes from the combination of archetypal material (in the appearance of the masks, gestures, and the sounds of water, percussion, and voice) and the collective participation of the audience. The pieces drew the listeners into various modes of parrticipation in a structurally strong and rightly intuitive flow of events. In that envelope of dreamtime, we listeners experienced a collective deep consciousness. This is music that transforms and heals."
-
Tom Bickley
---